My top 10 Gorillaz songs: -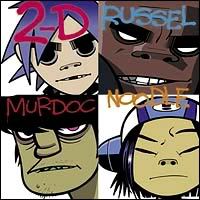 Admittedly, they do only have 2 albums – Demon Days and Gorillaz, but a friend go me a really rare, Japanese cover of some Gorillaz songs when they went to Japan on holiday, which includes Faust and Right Hand Suzuki Method. So, overall, I have 50 or so tracks to pick from. And they go…

10. Dare
09. Kids with Guns
08. Gorillaz on My Mind
07. Film Music
06. All Alone
05. Clint Eastwood
04. Feel Good inc.
03. The Sounder
02. Sound Check (Gravity)
01. November Has Come

October will come too, sigh. And I'll be so upset I probably won't be able to keep a blog. Blah.